This page is the brochure for your selected program. You can view the provided information for this program on this page and click on the available buttons for additional options.
IIP-Philani Child Health and Nutrition Project
Khayelitsha, South Africa
(Outgoing Program)
Program Terms:
Summer

Partner Institution/Organization Homepage:
Click to visit
Restrictions:
Princeton applicants only
| | | | |
| --- | --- | --- | --- |
| Dept Offering Program: | IIP, International Internship Program (IIP) | Program Type: | Internship |
| Language Prerequisite: | No | Program Features: | Community Service, Field Work |
| Degree Level: | 2 First year Ugrad, 3 Sophomore, 4 Junior | Time Away: | Summer |
| Housing options: | Student Responsibilty with support from IIP and/or Host Organization | Program Group: | International Internship Program |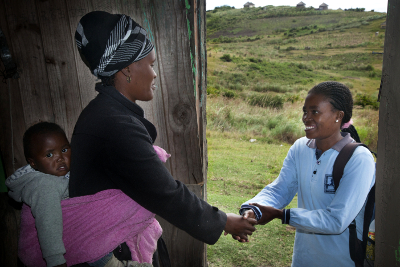 About:
Philani has an integrated comprehensive health program with home and clinic based maternal and child health interventions, preschools, skills and income generating programs alongside scholarship, orphans, and building programs. Interns at Philani Maternal, Child Health, and Nutrition Project will work in Khayelitsha, an African township 25 km from Cape Town city center. Interns will be part of a team committed to the work of improving the health and welfare of women and children in destitute communities on the outskirts of Cape Town.
Intern responsibilities:
IIP interns will
contribute to one or both of the following programs:
Income Generation project – a program which focuses on creating sustainability in households, by teaching women a variety of art forms.
Educare Program – where approximately 300 students ages 2-6 years old are enrolled. The program focuses on early childhood education.
Qualifications:
IIP candidates with interests in nutrition, social services and global/public health are encouraged to apply. Skills in grant writing and program development would be an asset.
Previous work experiences (in the words of past IIP interns): Intern #1-
I assisted in designing and implementing a client satisfaction survey for Philani's Mentor Mothers Program which sends community health workers into the field. I randomly sampled clients to be surveyed and will record and analyze the data for results. This survey was for the Department of Health, but was also useful to Philani in assessing their program. I also createdan updated directory of referral organizations for Philani. I called shelters for battered women, crisis pregnancy clinics, foster care homes, and mental health centers, to name a few, and ask about their services and referral process. Many of Philani's clients may benefit from the services offered at these organizations so a complete directory will put to good use.Another side project of mine is helping to create a database for all of the Mentor Mothers' clients. Most of Philani's documents are in paper form and not digitalized, so this is the first big step of many in making Philani function more efficiently.
Intern #2:
We have tested and organized all the keys in the facilities. We have filed and archived documents for various employers. We have filed all closed folders from this year and those left over from the past few years for the Mentor Mother Program. I have captured all the cases (both Open and Closed) in the Orphans and Vulnerable Children Program onto the computer database and organized and filed these cases. I have also captured all cases in the OVC Program Book, bringing the system up to date, and made suggestions on how to file incoming cases efficiently. We have created a flow diagram reviewing the point of sale and stock control system of Philani's Income Generation Project. We used this information to help us conduct a cost analysis of the program and advise on strategies to further improve the Income Generation Project in the upcoming weeks. We have assisted with Philani's Medication Stock Control by recording all medications purchased and distributed by the organization in the past few years. We have researched methods for conducting a coverage survey for the Mentor Mother Program and written a lengthy report detailing the benefits of conducting such a survey and our recommendations of how to do so, using the latest techniques and software which are being utilized by similar NGO's worldwide. Finally, we have edited and prepared the Mentor Mother database for statistical analyzation. I learned to see my time here as not "what I can get out of this organization" but "what I can give to this organization" based on their needs as a volunteer. It seemed that what this organization needs is time and greater organization and efficiency, so I am focusing on creating as much order as possible and getting to know the women here well.
Intern #3:
We have organized closed files from the Mentor Mother program, organized and tested keys for the entire complex, archived files for some of the employees, brought the Orphan and Vulnerable Children (OVC) database up to date, and captured the medication orders and stock for the last two years. We have also made a flow chart of the point of sale and stock control for the Income Generation Project and plan to advise on ways to improve that program. We have also given advice on items that the project is looking to purchase such as a projector to use used for a "mini movie theater," a vending coffee machine for the visitors, and a system of cloud storage for the employees to back up their files. Additionally, we researched numerous coverage survey methods. I wrote a report, detailing the survey methods of SQUEAC and SLEAC. We are currently working on reorganizing the entire Mentor Mother database in order to get it into a condition that can be used to analyze the information in the database and obtain statistics. We will then analyze the organized data and hope to get results in a way that we can advise on new programs in order to target a specific condition. I am learning to be patient. I have also had to be patient in working with the data and the organization of it and of the employees. Additionally, the start to looking at the data relationships forced me to refresh my knowledge of R. I also learned about ways of testing program coverage and hotspots for malnutrition.
View a PowerPoint presentation by a past IIP intern:
PHILANI SA Intern#1
Philani_South Africa_Bell_Yanique.pdf
This internship is offered in partnership with the Program in Global Health and Health Policy and can be used by GHP juniors for completion of the GHP Summer Research Requirement (please check the appropriate box on your application).
This program is not currently accepting applications. Please consult the sponsoring department's website for application open dates.