This page is the brochure for your selected program. You can view the provided information for this program on this page and click on the available buttons for additional options.
IIP-Fundación Salud por Derecho - Right to Health Foundation
Madrid, Spain
(Outgoing Program)
Program Terms:
Summer

Partner Institution/Organization Homepage:
Click to visit
Restrictions:
Princeton applicants only
Dept Offering Program:
IIP, International Internship Program (IIP)
Program Type:
Internship
Language Prerequisite:
No
Degree Level:
2 First year Ugrad, 3 Sophomore, 4 Junior
Time Away:
Summer
Housing options:
Student Responsibilty with support from IIP and/or Host Organization
Program Group:
International Internship Program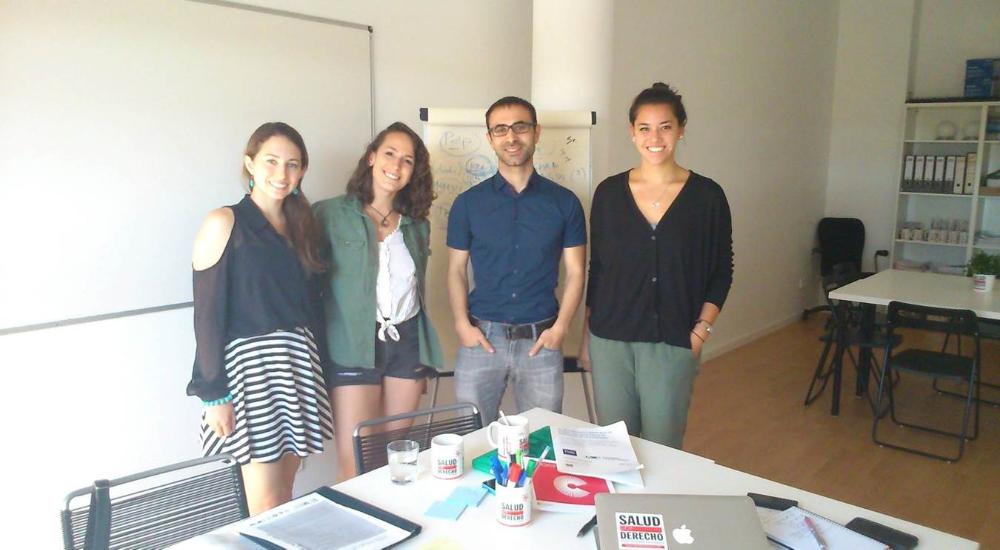 About:
Fundacion Salud por Derecho --Right to Health Foundation is a human rights organization focused on defending the right to health. Through political advocacy, awareness-raising and social mobilization, in Spain and at the European and global levels, they work so that all people are able to exercise their right to health in a real and comprehensive way. Their work is organized around three lines of action: promoting more and better health R&D in an innovative system that is need-driven and that ensures access to biomedical products; contributing to achieving universal access to prevention, treatment for care for HIV/AIDS; and promoting the creation of a global social health protection framework that ensures all people have access to quality basic health services. Specific projects include: the Catalytic Project; the Working Group on Health, Access and Innovation and the resources mobilization for the Global Fund.
Intern Responsibilities:
IIP interns will be involved in the monitoring of the current global health situation through reading reports, writing briefings and translating any key documents. The IIP interns will also produce and translate content for social media, assist in the organization of logistical elements of events and working meetings and attend and actively contribute to internal strategic and coordination meetings and the development of potential new activities. Interns will also have the opportunity to work on one or more of the following projects:
Catalytic project for access to medicines and improved medical R&D - Access to medicine is a fundamental part of the right to health. Yet, 2 billion people do not have access to essential medicine. Everything starts with research. The current R&D model shows weaknesses and its structural limitations have become more visible, leading to a biomedical innovation system that is more and more costly yet less productive. To address these issues, Salud por Derecho designed and launched in 2013 the Catalytic Project. Unique in its methodology and lines of action, this project aims to contribute to the fulfillment of the right to health, understanding that essential parts of this fundamental right are access to treatment as well as the right to enjoy the benefits of scientific progress and its applications. They use both a top-down and bottom-up approaches to mobilize policy makers and the scientific community to address major shortfalls in the current biomedical innovation system, and its negative effects on access to medicines in impoverished and developed countries. Their purpose is to promote a debate, introduce changes in policies and develop best practices to guide biomedical R&D towards a need-driven system rather than maximizing economic profits. The IIP intern on this project will monitor news, journals, and reports relevant to the project's topic, support the implementation of the Catalytic Checklist for medical R&D with relevant partners and committees, and will participate and support the contribution of Salud por Derecho.
Global health financing (Financial transaction and Global Fund project) - Throughout this project, Salud por Derecho seeks to increase the funding available for the Global Fund by assuring the implementation of a comprehensive Financial Transaction Tax and that a percentage of its revenues are invested in global public good. On the other hand, they want to ensure that funds are used in the most efficient way by having affordable treatments/medicines. To do so, they work to influence R&D policy and investment towards a needs-driven R&D framework through both awareness raising and policy dialogue with key stakeholder at the national, European levels. The IIP intern on this project will monitor news, journals, and reports relevant to the project's topic, participate and support the contribution of Salud por Derecho at national, European and international levels, and translate and proofread the project's documentation.
Universal health coverage- Millions of people in impoverished countries become ill and die each year, and the majority of them would be preventable if they had access to a basic package of healthcare services. Moreover, millions of families are trapped in poverty because they lack social protection and are forced to cover the costs for healthcare. For Salud por Derecho, the creation of a universal health coverage system for low and middle income countries that secures access to a basic package of health care services for all people, financed jointly through domestic resources and international assistance, would promote sustainable human development in impoverished countries and make the human right to health a reality. The IIP intern on this project will monitor news, journals, and reports relevant to the project's topic and will participate and support the contribution of Salud por Derecho at national, European and international levels.
Qualifications
: IIP candidates with interests in international relations, public health, human rights, politics, and advocacy are encouraged to apply. Spanish fluency in reading and writing as well as Spanish speaking skills would be an asset.
Previous work responsibilities (in the words of a past intern): Intern #1:
Updating their database of Members of European Parliament information; researching relevant literature for reports they plan to write; editing and transating into English powerpoints, documents, and emails; researching for blog posts that I will write; transcribing interviews they have done. Most of my research is related to their Catalytic Project, which focuses on R&D in the pharmaceutical industry.
Intern #2:
I had several work responsibilities. The organization is comprised of a collection of projects, and I was responsible for certain tasks within each project. The following are examples of my responsibilities: 1. Translated 111 slide powerpoint presentation from Spanish to English. Filled out a grant application by translating documents about a campaign from Spanish to English. Revised English of coworkers on grant application. 2. Created a pamphlet/brochure to advertise the documentary created by the organization. 3. Researched and found data regarding several terms that will comprise the "Checklist of Best R&D Practices" in order to allow the organization to write about concrete steps that they need to take. 4. Conducted and transcribed interviews 5. Cut movie clips of the documentary to send to a producer...I was almost completely unaware of the issues that this campaign of the organization address before coming to work here. I am so thankful for this opportunity because although I hope to become a doctor, it is of utmost importance to be fully aware of the entire world of medicine instead of just what happens inside a hospital. I feel very enlightened because of all of the research I have been doing and feel very passionate towards the cause of the organization. The documentary that I watched upon first arriving at the organization opened my eyes to this entire corruptive process that occurs in the pharmaceutical industry and how it is essential to be aware of it as a future physician.
View PowerPoint presentation by past IIP interns:
Shenk_Jamie_SaludporDerecho_Spain.pdf
Salud por Derecho, Abousy, Mya, Spain.pdf
Fundacion Salud por Derecho_Spain_Gabdrakhmanova_Dinara.pdf
This internship is offered in partnership with the Program in Global Health and Health Policy and can be used by GHP juniors for completion of the GHP Summer Research Requirement (please check the appropriate box on your application).
This program is not currently accepting applications. Please consult the sponsoring department's website for application open dates.