This page is the brochure for your selected program. You can view the provided information for this program on this page and click on the available buttons for additional options.
University of Oxford, Worcester College
Oxford, England;
Oxford, United Kingdom
(Outgoing Program)
Fact Sheet: - unrelated header
Fact Sheet:
#i18n(14)# parameter/value output
Dept Offering Program:
Study Abroad OIP
Type of Program:
Study Abroad
Language of Instruction:
English
Language Prerequisite:
No
Program Features:
Academic Study
Degree Level:
2nd year u/g students, 3rd year u/g students, 4th year u/g students
Time Away:
Housing options:
Dormitory
Program Group:
Study Abroad OIP
Duration of Program:
More than 4 weeks
Program Adviser:
Claire Hu
Program Description:
Program Description: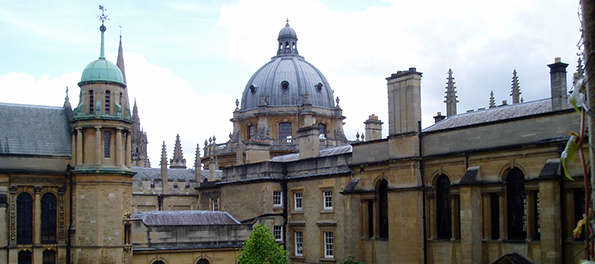 University of Oxford, Worcester College

The deadline for the spring 2022 program was January 31st, 2021. Applications are closed for 2021-22.
The University
The University of Oxford, established in the 12th century, is composed of 39 independent, self-contained, self-governing colleges. Princeton students can apply to Worcester College, which has a reputation for its relaxed atmosphere and its extensive grounds. Students have the chance to take advantage of Oxford's unique tutorial system in a range of subjects, from humanities to STEM courses.
Worcester College has existed under its present name since 1714, but some of the buildings are the oldest in the University, dating back to 1283. The college has a reputation for its friendly, relaxed atmosphere and its beauty. There are approximately 350 undergraduates, 130 graduate students, and approximately 45 Fellows in the College. It is unusual among Oxford colleges for having very extensive gardens and a large lake on the college premises. The extensive grounds provide playing fields for college sports.
The Setting
With a population of 160,000, Oxford is a lively city with university buildings from many architectural periods scattered amidst commercial enterprises. The city provides an array of cinemas, theaters, and concert halls as well as a variety of good, inexpensive restaurants. There are excellent transportation links with all parts of the United Kingdom and frequent and reasonably priced bus service to London.
Academics
Courses:
Visiting students are also often drawn to Oxford by its tutorial system. The tutorial is the distinctive and predominant mode of undergraduate teaching at the University. A tutorial is typically a one-hour meeting between a tutor and a student or a small group of students. Visiting students enroll in one "major" tutorial, which meets weekly, and one "minor" tutorial, which meets every other week. Worcester offers visiting students tutorials in a wide range of subject areas including classics, economics, English literature, geography, mathematics, history, philosophy, physics, politics, geography, French, German, biological sciences, computer science, and statistics.Because students at Oxford study just one subject, and do so at an advanced level, visiting students coming from an American liberal-arts background often appreciate the chance to study within a system that emphasizes specialization and depth rather than breadth.
In addition to tutorials, students can attend lectures, practical classes, demonstrations, and seminars provided by the University. Undergraduate education at Oxford resembles graduate study in the US in important ways: students have much more independence and unstructured time; they are expected to take intellectual initiative in pursuing questions that interest them; and they study specialized topics at an advanced level.
Dr. Michael Mayo is the Director of the Visiting Student Program. Before the start of each term, he works with each student individually to design a suitable academic program. He also runs orientations for newly arrived students, organizes an ongoing series of cultural and social events, and is available throughout the term to help with any and all matters.
For a list of tutorials offered, please see here.
Eligibility:
Successful applicants should have a cumulative GPA of 3.7 or higher. For Princeton approval, participants must have at least a 3.0/ B average for the fall and spring semesters prior to the semester of study abroad.
Grading & Credits:
For information regarding credits, grading, and other academic policies, read the
Academic Policies on the Study Abroad website
.
Academic Calendar
For information about Oxford's academic calendar and exact program dates, review the
Oxford Dates of Term
.
Note that the Oxford academic year consists of three terms: Michaelmas, Hilary, and Trinity. Full year program participants complete all three terms. Spring semester participants must complete both the Hilary and Trinity terms.
Residency Requirement
Visiting students at Oxford have almost all the same rights and responsibilities as matriculated (i.e. regular, full-time) undergraduate Oxford students. One essential responsibility is the residency requirement, which mandates that students remain in Oxford for the duration of each academic term. Because American students occasionally have summer jobs or internships elsewhere, Worcester is able to release a visiting student from the residency requirement for Eighth Week of Trinity Term only. This release is contingent on written permission from the student's tutors and from Princeton's Study Abroad Office.
Housing
Visiting students at Worcester are housed alongside the College's other undergraduates, which helps them to integrate socially into the College community. All visiting-student rooms are single-occupancy and include a private bathroom as well as internet and shared kitchen access; linens and light housekeeping are also provided. Housing during vacations is not included, but can be arranged.
Students can cook for themselves in their kitchens or choose to take meals in the College's eighteenth-century Hall. The food at Worcester is excellent, and the College is known for its especially superb "Formal Hall" meals, offered several times a week.
Student Life
Visiting students are full members of Worcester College and the University of Oxford, and there are opportunities to get involved in extracurricular activities both at the level of the College and at the level of the University.
Worcester is a warm and lively community, and visiting students will find an overwhelming number of activities and groups open to them in the College. A ll undergraduates belong to the Junior Common Room, which provides a place to relax with magazines and newspapers and functions much like the Undergraduate Student Government in representing students' opinions and organizing a range of social events. Worcester is a musically active college and has a lively dramatic society.
Visiting students at Worcester also enjoy an array of activities and events organized specifically for them, including formal dinners and informal gatherings with tutors and College officers, as well as trips to see theatre in London or Stratford or to visit local attractions such as Blenheim Palace.
Money Matters
Students who receive financial aid at Princeton continue to receive Princeton financial aid for the approved costs of study abroad programs during the academic year. For detailed information about financial aid, program fees, and billing for study abroad, please visit the
Money Matters section of the Study Abroad website
.
Passport and Visa
Students are responsible for ensuring that their passports are valid for their entire stay in the U.K. For further information on renewing or obtaining a U.S. passport, please consult the
U.S. State Department passport website
.
If you are studying in the UK for six months or less and do not plan to intern/work/volunteer while you are there, then you can enter as a
student visitor
. Non-visa nationals (which include U.S. citizens) do not need to apply for student visitor clearance before arriving in the U.K. They do, however, need to
bring specific documents
to show the entry clearance officer upon arrival. If you are not a U.S. citizen, you should check the
list of visa nationals
on the UKBA website to see if you need to apply for student visitor clearance ahead of time. If you enter as a student visitor, you must leave at the end of six months.
If you are studying in the UK for more than six months or want to have the option to intern/work/ volunteer while you are there, then you need to get a
Tier 4 Student Visa
. This visa is complicated, and you will need to start the process six to eight weeks before you plan to leave for the UK. If applying from the U.S., you should first
complete the visa application form online
, make your payment, and then use the online booking system to schedule a convenient location and time to submit your biometric data. You will visit one of the 129 U.S. Citizenship and Immigration Centers, where they will scan your fingertips and take a digital photo. Once you have submitted your biometric data, you will send in your passport and documents by mail.
Application Process
Please note that applications for Oxford are due in February prior to the academic year of the program. For this reason, be sure to plan ahead, and be prepared to apply up to a year in advance of the program start.
In order to apply, the appropriate study abroad adviser from Princeton must review your qualifications and nominate you for the program.
As part of the application process, students designate the tutorials (two for each eight-week term) that they wish to take while at Oxford. Applicants should be sure to plan their tutorials with the help of the appropriate departmental representative at Princeton. Acceptance at Worcester will be contingent upon finding tutors in the areas listed on the application.
A complete application consists of the following:
Worcester College application form
Personal statement about your academic interests
Two letters of recommendations from Princeton faculty who have taught you
Official Princeton transcript (digital copy emailed to OIP advisor)
Two samples of work in the subject area that you wish to study at Oxford
Princeton will forward all acceptable applications to Worcester College and they will make the final admission decisions.
In addition to a program application, students must also complete the Princeton Course approval form. This form is reviewed by the Committee on Examinations and Standing, which grants final approval to participate in the program. Students who meet the university eligibility requirements to study abroad and who have the support of their department are normally approved by the Committee.
Resources
Start planning your study abroad experience!
Student Experiences
"
For me, Oxford was less about the travel experiences (I'd already traveled in Europe extensively before), and more about experiencing a completely different way of thinking. Oxford forced me to challenge preconceived ideas, push my academic boundaries in both writing and reading, and make the most of a 1-on-1 environment with famous professors . (I'd read the works of some of my professors before I even realized they were to be tutors.) Keeping an open mind about everything, academic and cultural, could make a huge impact on your experience.
" - Ye Eun Chun '16
Dates / Deadlines: - unrelated header
Dates / Deadlines:
Tabular data for Dates / Deadlines:

| Term | Year | App Deadline | Decision Date | Start Date | End Date |
| --- | --- | --- | --- | --- | --- |
| Academic Year | 2021-2022 | 04/30/2021 | 05/07/2021 | TBA | TBA |
| Spring Semester | 2022 | 10/15/2021 | 10/22/2021 | TBA | TBA |